FROZEN TREAT FRENZY IS WAY BETTER THAN CANDY CRUSH SAGA…..
PLAY FROZEN TREAT FRENZY FREE – EASY DOWNLOAD –  WIN REAL PRIZES!!
 INDULGE YOURSELF IN THIS DELICIOUS AND EXTREMELY SWEET 3 MATCH PUZZLE JOURNEY TOWARDS THE ULTIMATE FROZEN TREAT!
Rules are simple, you get a certain number of moves to create your yummy frozen treats; you have to attain a certain score goal. The bigger the match, the higher the candy scores! Watch as you set off an epic chain reaction of candies in the Frozen Treat Frenzy.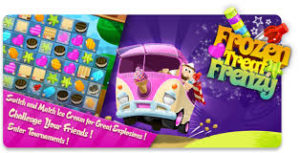 Frozen Treat Frenzy Features:
• Highly addicting game play!
• Delicious graphics!
• Awesome game sounds to keep you entertained while you play!
• Hundreds of challenging yet fun filled levels
  • Each level comes with different goals!
• Share your success stories with your Facebook friends!
• 100% FREE gameplay!
• Fun game for all age groups!
• Plus so much more…
If you like games that use your mind to have fun, you should see and play (for free) Frozen Treat Frenzy.  With over 100 Challenging Levels, this game will provide hours of entertainment.
It is great for all ages… and while it may make you crave a Treat or Three… it is a great way to enjoy time in lines, time at the airport, or just on a rainy day