Spark Naturals – Essential Oils smell really great. However, there are so many different over the counter medicines that can be replaced by a quality essential oil.
Lemon oil has been used to fight infections, soothe headaches and migraines, improve muscle problems and helps the digestive system. That is just one example of so many. Spark Naturals is the place for you to find quality oils for the best prices online.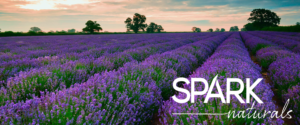 History of Oils
Essential Oils are naturally occurring volatile oils. Obtained by steam distillation or cold pressing (expression). Having the characteristic aroma of the plant part from which it was derived. These 100% pure oils are "neat", meaning they have not been processed, diluted or manipulated in any way with solvents or other additives. Although a particular species of plant, harvested and distilled for its essential oil, may produce a fragrance differing from the same species grown in a different region. However, many of the main chemical markers and physical specifications may be very similar.
Where do most oils come from?
Essential oils come from all over the world. Most essential oils are distilled on the farm or near where the plant is grown. Therefore, essential oils tend to come from the regions of the world where the plants are cultivated. Besides North America, many oils come from Europe and Southeast Asia.
WHY SPARK NATURALS?
Why use Spark Products?  Spark Natural's Products are 100% Natural. Thes oils, beeswax, personal care items and more have been sourced from all over the world.  To guarantee that no pesticides, or foreign material has been introduced through it's life, growth, and gathering process. Ensuring that the consumer receives the best possible product. Available at a reasonable and realistic price. We're bringing nature directly to you, in it's purest, natural form – Spark Naturals.
WHO IS SPARK NATURALS:
Our goal is simple.  Provide un-compromised natural products of the highest quality. All at a reasonable, realistic price. Our dedication to this purpose is central and essential to our company.  We set out to build a company with one focus in mind. Our motto is "life essentials for humanity". Our products are available to everybody, any time of year. No more minimums & requirements necessary to get a hold of the Essentials you need.

Also, go see the oil of the month club…
The Premium Oil of the Month Club is the best value out there. They are shipped out to you once a month (on the same date you select). The price for this Club is $24.99 a month and includes shipping and tax. There is also an oil of the month club at $15.99 a month. This is a great way to collect oils and accessories at a discounted price.